Programs / Preschool
---
APLS Preschool specializes in teaching Mandarin Chinese and Japanese language to young children. Through language learning, we provide opportunities for children to experience different cultures, stimulating their curiosity and imagination. Our goal is to help young children in the development of their social, emotional and cognitive skills, and be school ready. We serve children from ages 2 ½ to 6 years old and do not require prior knowledge of the Chinese or Japanese language.
We offer: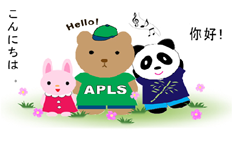 An immersion preschool program in Chinese or Japanese
14 years of Asian language education experience
A safe and nurturing environment to learn and grow
Full and half day programs (before and after school care available)
Low child to teacher ratios
Educated and dedicated native language speaking teachers with early childhood education
Year-round program with year-round enrollment opportunities
Flexible scheduling
An outdoor play area
Curriculum
---
Our curriculum follows the school readiness guidelines with a Chinese or Japanese immersion language environment for your child to acquire a second language. Children learn the target language through literature, music, arts/crafts, themed study and other age-appropriate activities.
Free Choice Activity Time:
Children are encouraged to explore their own interests. They will select their own type of play from a variety of activities such as doing crafts, puzzles, drawings, and reading. Teachers work with children to develop social skills (how to make friends, how to share, how to resolve social conflicts, etc.).
Language Art:
Children learn Chinese or Japanese characters, numbers, shapes, colors, a weekly theme, and culture in their target language.
Group Learning Time:
Children explore a weekly theme through a variety of activities (art projects, science projects, musical projects, etc.). During this time, children learn expectations and rules for group behavior.
Curriculum (PDF)
Sample daily schedule (PDF)
Calendar and Events
---
Preschool calendar and events (PDF)
Preschool Application & Policy Form
---
School Tour : Please call 425-747-4172 or 425-641-1703 to make an appointment.